My husband is usually gone every other weekend to school for his MBA. This month he has been out of town almost every weekend for school (it's the end of his 1st Semester) and was gone half of Spring Break for a business trip. It has been hard on us having him gone so much (partly cause I am due really soon with #5), but I have been noticing this has been more difficult for the kids. It's always hard to transition to change especially in schedule and I am sure it'll get a little easier when they are a bit more used to it, but we have had more tantrums, tears and frustration in the house because they miss having him around. So, for me I have had to learn a little more patience and try to make the time more pleasant by doing a movie night while daddy is away or go somewhere fun! My husband thinks it's unfair that we have so much fun without him! :)

We knew it would be hard to go to school, but knew the MBA program was something we needed to do to better the future career wise and signed up for it before we found out the man upstairs decided to send us another blessing, which we are now really looking forward to! During all of this I have also come to appreciate having a two parent home and tip my hat to all who are single parents that try their hardest to make sure their family is well taken care of because that is a HARD job and I can't imagine all that they go through! My mother was a single parent of 4 and it was very hard on her and I am amazed at all that she tried to do for us!

The night my husband returned from his business trip this is what the kids did (on their own) to welcome him home! They even sang a song just as he walked in the door, that they learned at church, "I'm so glad when daddy comes home, Glad as I can be!" then they forgot the rest which is kind of funny considering they sing it almost every year at church for Father's Day!

Of course Heath had such a busy day that we couldn't keep him up until 8:00 p.m. to see his daddy! But he was VERY happy to see him the next morning! Daddy brought home some donuts and fed us well for breakfast! We LOVE Daddy!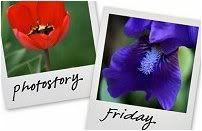 Hosted by Cecily and MamaGeek