Some anonymous person left this in our front yard for us and it was very sweet! We have never had this done for us before, so a BIG "Thanks" goes out to you whoever you are...it put a smile on our faces and made this moment even more special!
I went in to be induced Tuesday morning & had them hold off on breaking my water (I was hoping that the PIT would help the contractions I had been having on my own be more real, but it wasn't working out that way) and the labor wasn't progressing as quickly as we would've liked so eventually they broke the water and 3 hrs later we had our baby! It turns out that Laney had a bowel movement in the womb and after her head came out I had to stop pushing so that they could suction her and then after she came out I couldn't hold her until the NICU nurses had looked her over and I am grateful that she didn't inhale it and that she is healthy and happy! I went through transition and pushing her out in about 25 minutes! If you count the labor from when my contractions were regular with the PIT then it was abt. 7 hrs. of labor, but if you count from the water being broken considering I was still really only a 4 then it was 3 hrs.
My personal labor and delivery entourage! 2 on the left were GREAT nurses and the awesome lady on the right is my personal friend and hired doula!
The most important part of my Labor & Delivery entourage and best friend that puts a little bit of the cuteness in our kiddos :)...Tyson!
The morning of having Laney before the kids went to school we all gave our hugs and had a family prayer for me and the baby. All the kids were cheerful and excited at the thought that they would soon see their baby sister! Chad said "Now I have bragging rights at school cause we are FINALLY having Laney today!" Alyssa and Bria rubbed my tummy for the last time and Heath gave kisses and hugs (probably not really understanding what was going on) and then we were off!
It has been great to watch all the kids enjoy their new sister, though Heath wanted NOTHING to do with her at first and insisted that Bria hold her and he do his own thing. He came back the next day and we were able to convince him that it was alright to hold her and he did and enjoyed it! Thank goodness! I hope he starts to be more into her when we are back home.

Chad kept saying that she was the cutest thing ever, so pretty and perfect and wanted to hog her all to himself, earlier in the week he said he would think she was alright, but I informed him that he would be wrapped around her pinky in no time, and boy is that already true! :)

Alyssa has the mothering down really well and is quickly becoming a pro at holding her. She also sang while rocking her and is just a natural!

Bria wanted her ALL for herself and was sad that she had to share. She even cried when it was time for her to leave because she wanted another turn. They all were not happy about having to go home without us and baby Laney!

Needless to say I am HAPPY that she is out and healthy! It truly is a miracle and we feel GREATLY blessed to have another beautiful child of God in our home!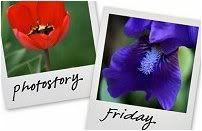 Hosted by Cecily and MamaGeek