In Southern Georgia, where the Spanish moss hangs picturesquely from the old oak trees and the secedas, crickets and frogs sing us to sleep with their lullabyes every night! This is my HOME away from home! :) Of course it could also have something to do with the fact that my dad, and now my sister, live here too! My family have lived in this area for many, many generations and I am very attached!
Where you can rest your weary bones and rest from your troubles!
Where the blueberries are ready to be picked and there will be plenty of
mouths
hands ready to help!
Where the kids learn to catch lizards and respect nature!
Where family comes out of the wood work to eat some good ol' southern food! :)
This is where I will spend the next couple of weeks with the kids while hubby is busy with school. This is a much needed change of pace and I look forward to having a break from kids and life as I know it!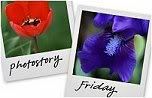 Hosted by Cecily and MamaGeek