Alyssa is into dogs lately. Actually into a movie called "Hotel for Dogs" about dogs. She wanted a puppy cake for her b-day and after searching the Internet for ideas I decided to put a couple of ideas together to make a unique one just for her.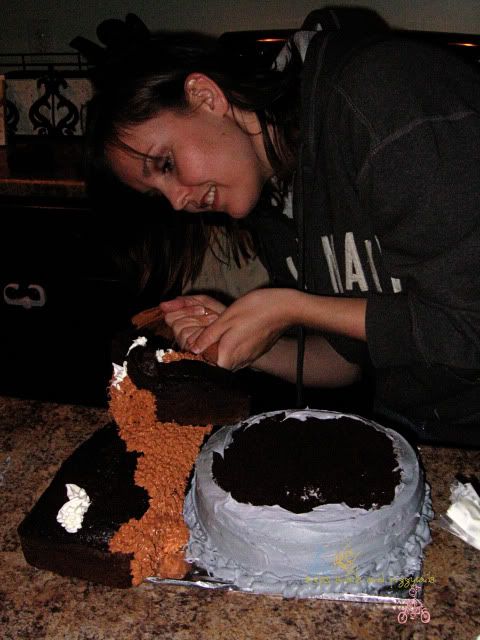 I used 3 boxes of cake mixes to make 2- 9 inch round cakes, 2 big bread loaf sized ones and 2 small bread loaf sized ones.
1. I frosted the bottom round cake before stacking. Then I carved a little out of the top so that when I put the cocoa puffs in they wouldn't roll out easily. I frosted the cake and put a decorative edge around the bottom.
2. Then I took a large bread loaf pan cake to the side. Put a ton of toothpicks where the head was going to go (I turned mine towards the bowl) then stacked a small loaf pan sized cake on top as the head. I took the 2nd small loaf pan cake and cut the corners off to make the ears. Putting more toothpicks in I placed the ears where I wanted them.
3. I divided and colored the icing. Then prepared some decorating bags with small star tips.
4.From there I put the frosting on in small star shapes all over the dog using different colors when I needed to.
Some things I would have done differently:
1. stiffened my store bought icing with powdered sugar. I ran out of time and didn't do it. Mine turned out a bit more gooey than I would have liked because I didn't do that.
2. carved the back of the dog to look a bit more realistic so that I could have done better legs.
3. Used something like straws cut into 2 inch long pieces to hold the ears in place because one of the ears kept falling off and I had to improvise which left me with an ear that I wasn't 100% pleased with (though all my kids reassured me that I had made the best cake any mommy ever could have~I love my kids).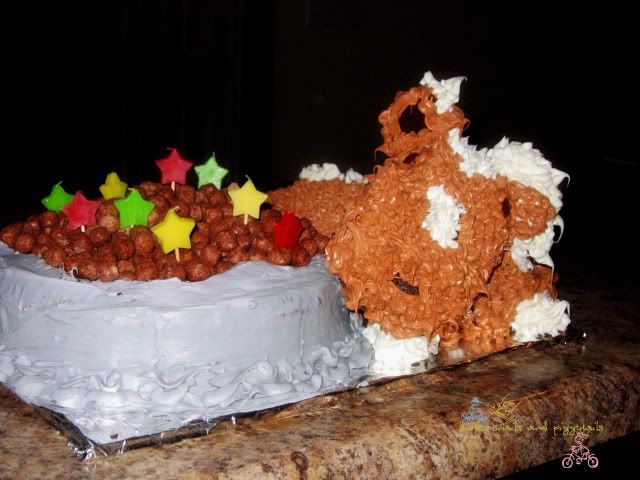 I also used photoshop to make a cute logo for the goody bags (the paw prints I did free hand-yes who knew I was so talented at drawing irregular shapes) :). Then I printed it off, rubbed pencil all over the back of the paper and turned it back over tracing the logo onto the bags. Then I went back and used a small tip sharpy to darken it.
The font I used was from
Kevin and Amanda{dot}com
If you have not ever seen the awesome fonts there, you are totally missing out and if you are a font-o-holic like I am , then you will never recover after seeing some of the cute fonts available. ;)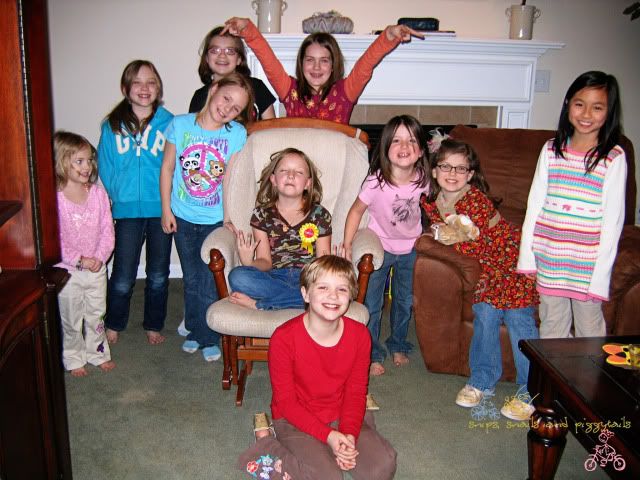 And here are all the dog loving girls. We had such a blast. We played a few games, watched the "Hotel for Dogs" movie and told stories. Yes, Alyssa is into the art of meditation lately, don't ask cause I couldn't tell ya.:-)