Once again I warn you that this is a long post!
When Tyson and I first talked about going to Brazil together we toyed with the idea of asking his parents to go with us and as you can tell we followed through on that and they came along for the ride. The reason this was such a great opportunity for us to all go down together is the fact that Tyson's dad served a 2 year mission there for our church, about 35 years ago, and knew the language and culture fairly well. And let me tell you it was awesome to have him there because I don't think that Tyson and I could have gotten around on our own half as well as we ended up and not many people there speak English so the language barrier would have been a worse problem with out him. We also had some interactions with a few of the locals that perhaps we wouldn't have had on our own either. I think Tyson's mom got a kick out of it all as well and we enjoyed the time together.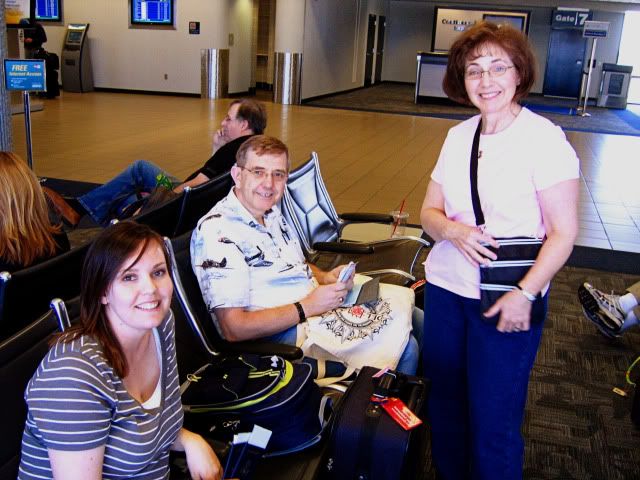 Here we are about to take flight!
This was a beautiful sunrise. Too bad pictures can never quite do them justice, especially when they are from the airplane window.
On our trip we weren't sure if my father in law would be able to find the people he had baptized. We had no contact info. and were just going along without a real plan other than the fact that we would be attending church at one of the buildings he had served at. After going to a meeting earlier that morning we decided to try our luck at another building, but since it was 3 in the afternoon we didn't think anyone would be there. Much to our surprise there was a ward meeting and after talking to a few people and showing them a list of the people my father in law had baptized, someone said they knew a girl with this one maiden name. It ended up being the granddaughter of a couple that he had Baptized and it turns out this is one of the families in particular that he really wanted to see.

The far left pic is of the granddaughter and her husband.
I will tell the story that lead up to the middle picture. The granddaughter told us where they lived so we ventured off to the almost "great unknown". Instead of doorbells and a door to knock on, there is a garage or gate that you clap at then they will come out and let you in. So my father in law (I felt sheepish, and even looked around to see if anyone was watching, at this idea because it is so not what we do...clapping in public to get into someone's home...) clapped and Shose (kinda like Jose with the "Sh" sound) came out and he knew someone from church was coming so he let us in and was very polite, but confused as to who we were and asked Tyson's dad why he was there. Then Tyson's dad said "I am Elder Horrocks". Then Shose's eyes lit up and he jumped up hugging him! It was a very special experience for us all to witness. Then he quickly got his wife who was gracious enough to make us juice and sandwiches and offer us some awesome cheeses and made a quick call to his son that was one of the kids he had baptized as well. They even showed us a family album that had my in laws wedding invitation and a picture of their family with my father in law at their baptism.
There are 4 generations in this room. All active in our church. They were very nice and a few of them that spoke English spoke so well you wouldn't know that they weren't American themselves. :) It was also interesting to be in a country where I was one of the tallest women...and even taller than most of the men, yes I enjoyed that quite well thank you! :)
Here we are in the Italian part of the city. Later that evening we came back to eat some pizza here.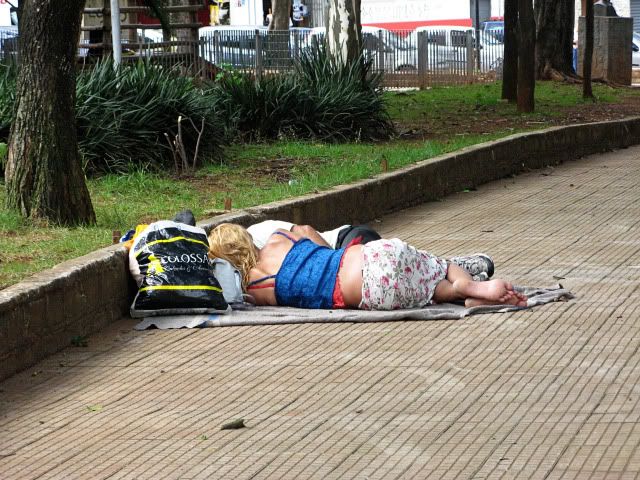 This was a common picture that we saw while there. People sleeping on the sidewalks and in parks (we even had to step over a few). From what my father in law said it is a lifestyle for some, nomads or like hippies. Then for others it was a fact of their circumstances. Too poor to have a home. We also saw small shanty towns, which are very dangerous so I would not recommend venturing to or through them. We only saw them when we drove by. The American "poor" are very rich indeed, compared to the many poor outside of the U.S. Our poor have a chance to get themselves out of their situation much more than their poor does.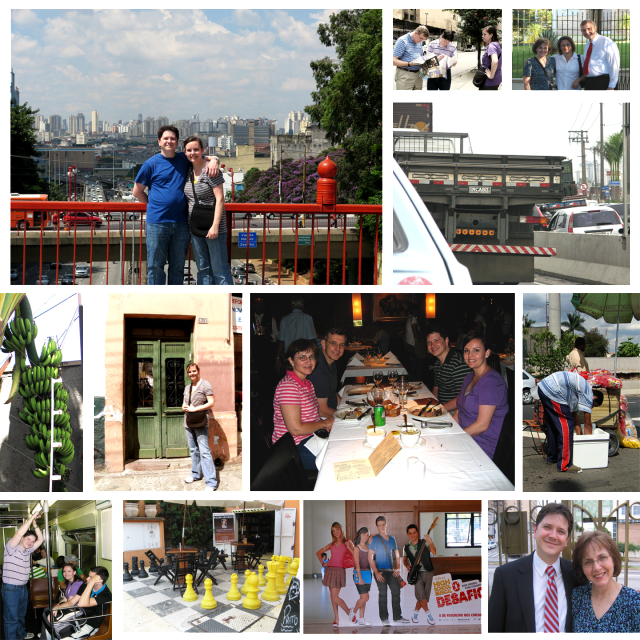 In the upper right hand corner is a pic of a lady that we met at the Campinus Temple, which is an hour away from Sao Paulo, and she invited us to her house and gave us a tour of a Brazilian home. It was rather interesting. She said that it is a dream for a Brazilian to own their own home and almost all stay in the same house for their entire lives. Those who own their home will add on and make it nicer through out there years. It kind of puts a new perspective on what we as Americans do, 2-4 homes in our lifetime. Her daughters were very kind and went to the store while we were there, saying they were taking the dog for a walk, to get us some fresh juice and food. Such sweet and accommodating people.
The big pic, on the 2nd row from the bottom, of all of us was at a Chuhascaria. Brazilian BBQ...it was AWESOME! I am a huge meat lover so let me tell you, I LOVED it! You have a a round coin that has a cow on each side. One side is green, the other red. When the green is up it means "keep the meat coming", and when you turn it to the red it means "stop", but when we turned it to the red....it still kept comin'! ha ha! It was so good and we had the best lamb that I have ever tasted there and the service was better than any service I have received here in the U.S....of course it might be the fact that we don't go to a lot of fancy shmancy restaurants too. :)
The bottom left pic is of me and Tyson on the metro and the person sitting beside me got a kick out of us speaking English and eventually got brave and talked with us apologizing left and right that he didn't speak it very well, but to tell you the truth almost all Brazilians that we met said this (the ones that spoke English that is) and I would have to say that almost all spoke it very well without much of an accent. I was impressed with the friendliness of the people. In public they were quiet and reserved, but made eye contact with you and sometimes nodded the head to say "hi".
On the streets there were a ton of vendors selling something and that is where we would buy our bottled water, someone had a banana tree in their yard and that was cool to see, there was a cafe that had a huge chess set almost as big as the tables. Also at our Hotel was a huge poster of "High School Musical" with a Brazilian cast. It made me smile. Yes, this is just a little bit of our randomness that we saw.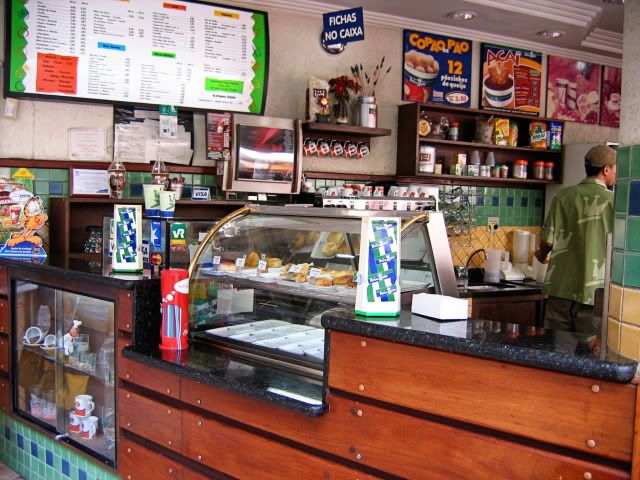 The first day we ventured out my husband and his father wanted to eat at one of these little shops that are almost at every corner and my mother in law and I were a little nervous about it, but after braving it once, I wanted to eat there all the time! :) Wish we had some of these here. But I still was a stickler with the water and constantly washing my hands.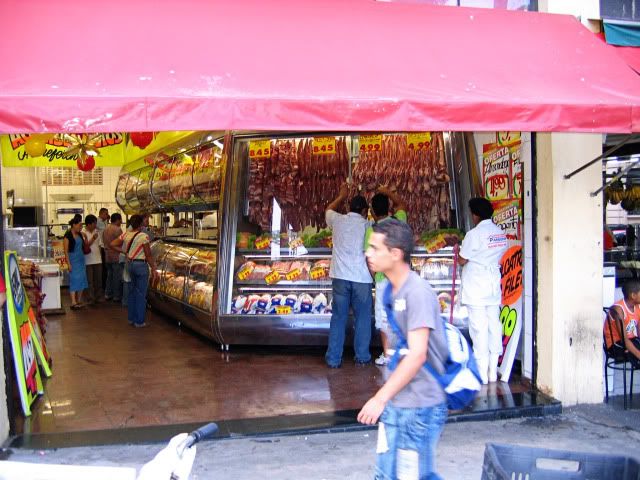 Here is a local meat market. My father in law said they were encouraged not to buy from these when he was here because they used to be completely open to the elements and considered unclean. Not sure now if they are safe, but they are refrigerated now and I am sure they are much better, but wasn't going to brave it.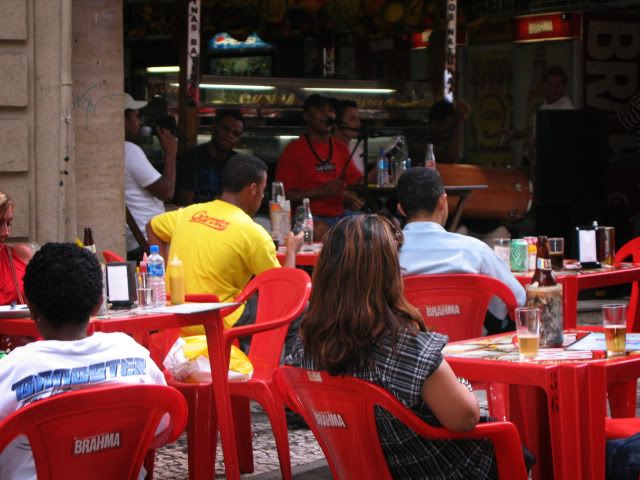 Here is a band in one of the corner markets. There were a few men and women dancing with the beat. WishI could have taken a pic of that too.

Most of the restaurants serve their drinks in glasses. I think I only saw one restaurant serve in plastic. Also, most of their drinks, even at McDonald's, is freshly squeezed juice. They were pretty good. I think I enjoyed the lime the best.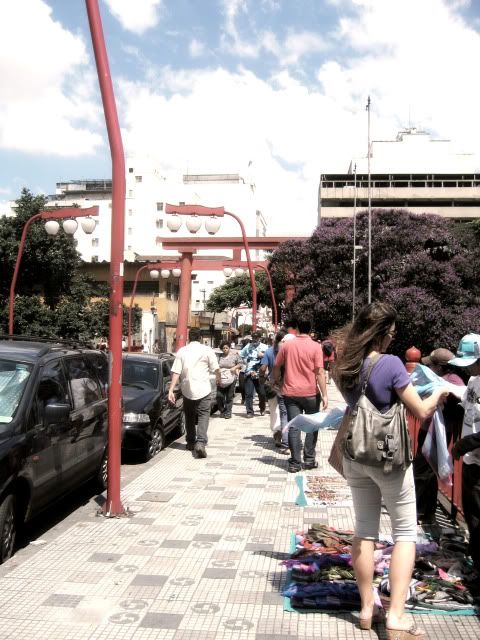 Along this sidewalk, which is an overpass, were a ton of vendors.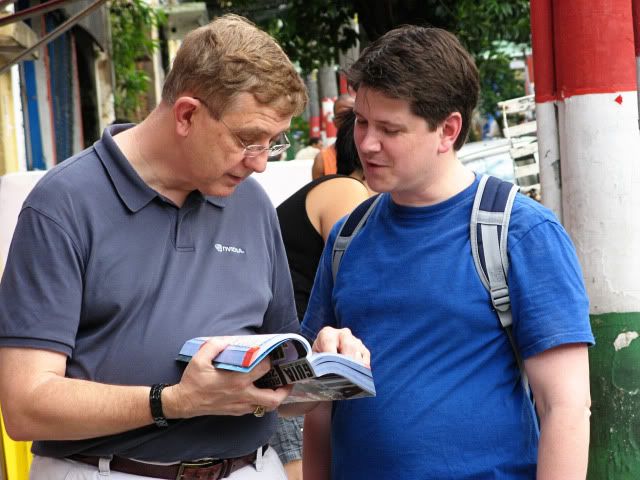 Here we are...well the men are, having to check the map out again. If we weren't standing out as tourist already then this was the ticket to that happening rather quickly. ;)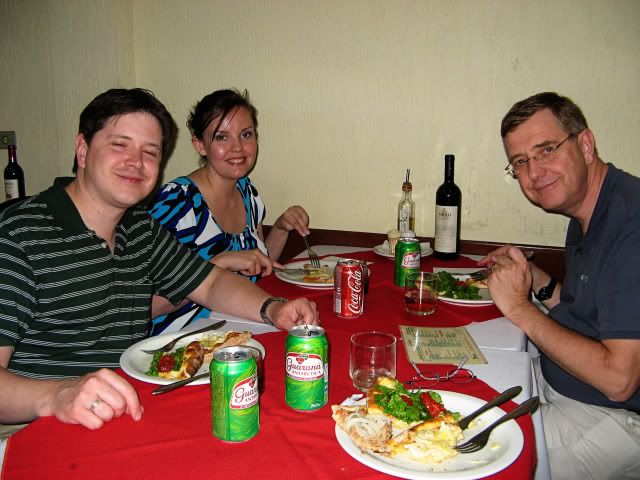 Here we are eating some pizza, it wasn't my favorite, but it was a buffet and we got to try several different types. One came out and it looked like ground beef, but was so not the taste that I was expecting...tuna, it was tuna! Oh it was so gross that I almost completely lost my appetite. Tyson's mom bit into hers at the same time and we both had to push it aside. So if you were ever wondering what fish might taste like on pizza, well it isn't great. ;) Sorry to Tyson this wasn't the best pic for him, but he tends to have eyes closed in many of his pics, so nothing new. lol!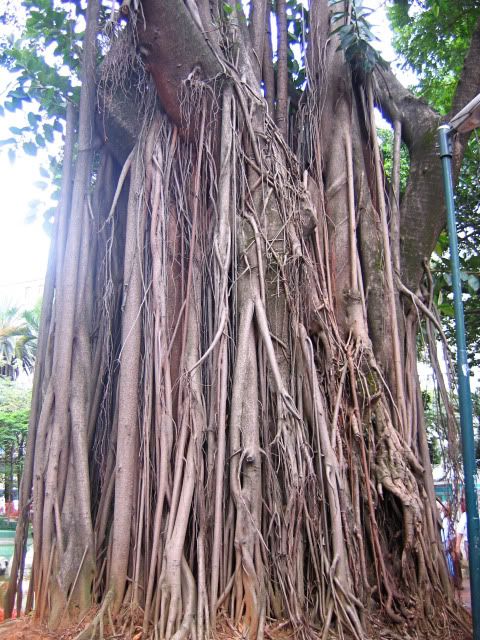 The area is really green and we saw a few trees like this that were pretty cool!
We also ventured off to the Beach in Santos, which is a hot spot for Brazilians to vacation at, but luckily there weren't a whole lot there that day, so we didn't see a whole lot of bodies if you know what I mean.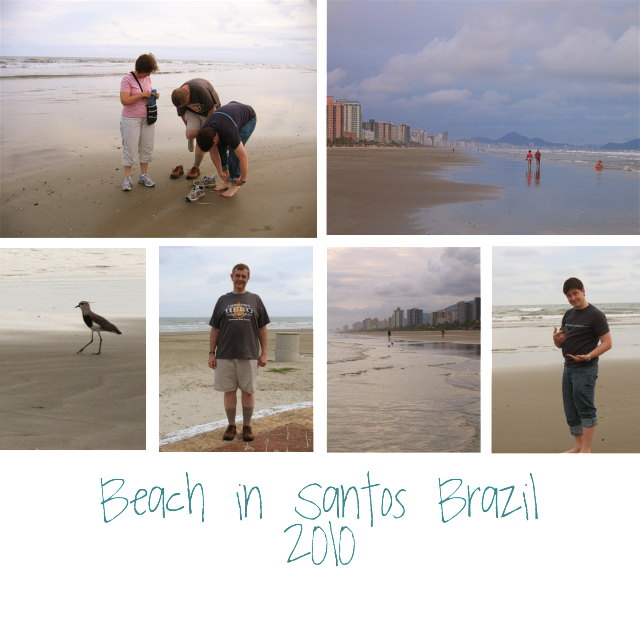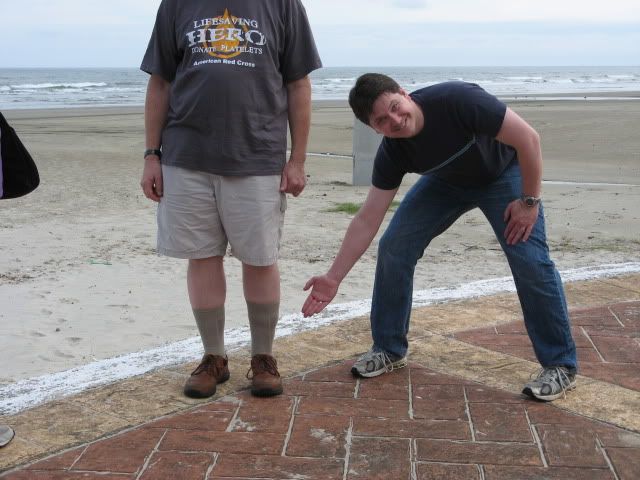 We enjoyed Tyson's dad's touristy look! :)