Ever since the record breaking storms that blew through our state, we have been super busy and well, I have been sick for about two weeks. I had a pretty bad case of Bronchitis. The doctor thought it might be strep, but that was an over the phone diagnosis. I on the other hand figured out pretty quickly when my breathing began to go down hill and felt like I was about to cough a lung up. I was laid out with this one. I have had bouts with bronchitis since I was a little girl, but this was by far the worst sick I have been with it. But now I am doing much better and know that it was a good choice to go by myself with all the kids to see my Dad in Southern Georgia during the power outages because that is when the sickies hit me.I ended up having to go home early cause of school starting up for the boys, but drove with a fever. My Tylenol wore off and I couldn't find the stash I usually keep in my purse. It wasn't too bad of a drive if you don't count a little boys fingers getting slammed in the car door, a baby girl who had some bad diapers and the down pouring during bumper to bumper traffic in a BIG city. :) I survived and more importantly the kids did too.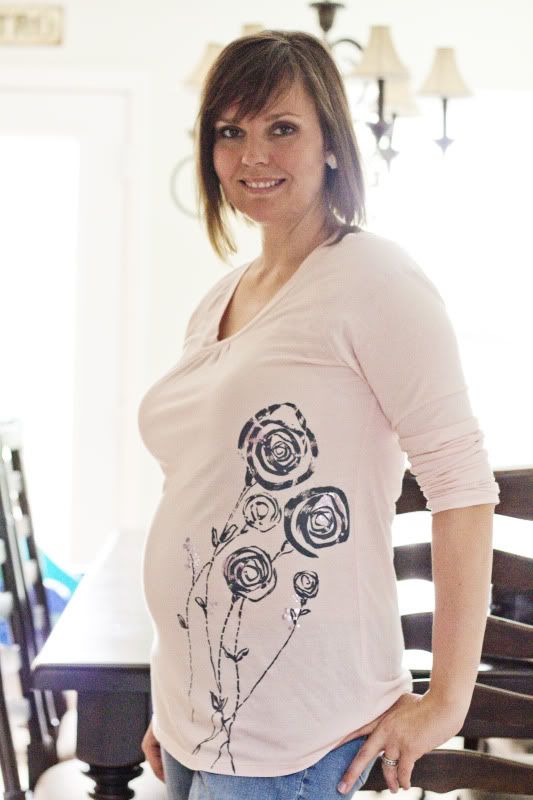 photo courtesy of Alyss. She is quite proud of herself. :)
I am now 16 weeks along in my pregnancy. Little bit has been fluttering around in there and I look forward to when my hubby and kids can feel it too. We find out the sex of little man/lady next time I go in. If you'd like to get your two cents in on whether or not you think it is a boy or girl, feel free to place a vote in the poll at the top right of the blog. :)
I am mostly over the morning sickness, which truly has been a blessing for us since my husband has been working so much and so late, even on many Saturdays. I am usually sick as a dog, laid out in bed during my pregnancies. The last one I was for 22 weeks. So, yes it is most definitely a blessing that I can function (aside from the 2 week, laid out with Flu and Bronchitis stint). And a big THANKS goes out to my in-laws for a little clean up help on my much-loved-by-kids-cleaned home, dinner and my friend, Karen, for the awesome meal during our time of need. It was very much needed and appreciated.
The day after our electricity came back on we had these lovelies delivered and set up. I am in LOVE with them especially the sexy legs. :) The only problem is that it barely fits in the breakfast nook. Something that will hopefully be remedied soon with either a move or a house addition? Either way I look forward to progress.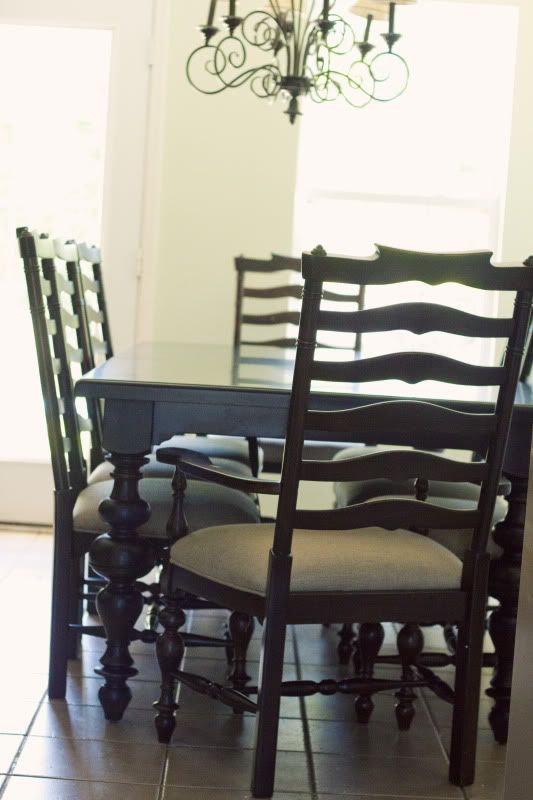 LOVE the texture and color of the cloth chairs, however, I want to cover them with clear vinyl so they will last awhile with little ones and I am not so confident in my abilities seeing as this was a pretty penny. :) So I am thinking of finding someone who will do it for me, that is experienced, for pay? Any ideas from my local friends here on who to ask for that?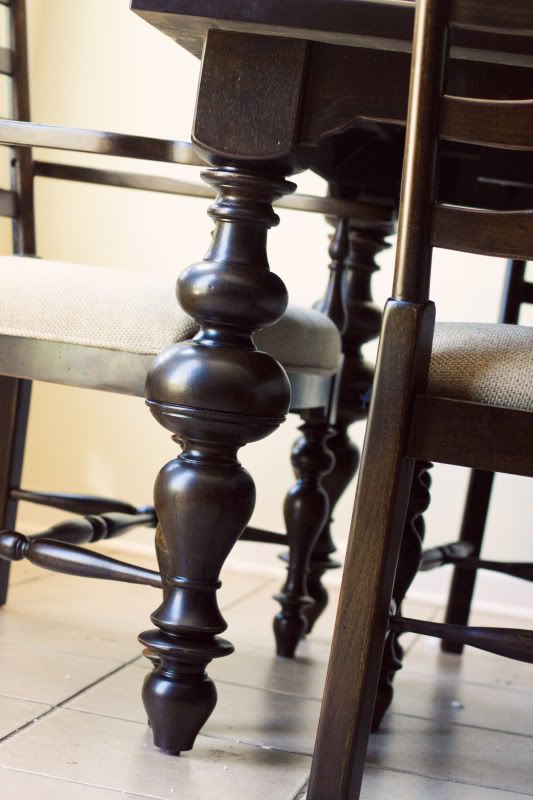 I have been looking for a table that was big enough to fit a family of our size and then some. They are usually VERY expensive and too ornate for my liking. FINALLY after a month of searching I found these at Dillard's.com. The shipping and taxes (more the taxes) are what made the price go up even more, but in the end they were still cheaper than most dining sets this size and the bonus is that we have one more leaf to put on to sit up to 10 (we only have 8 chairs for it so far)! :) Dinner party anyone?
And this little cutie has been getting into trouble. Don't let that abundance of cuteness fool ya! She is T-R-O-U-B-L-E!!! ;)
I ask her to sit down "NO!"
I tell her to eat "NO!"
I tell her I LOVE her "NO!"--Get the picture. :) AND can't you see the 'tude in her eyes? OH and she has been known to run, the opposite direction as you. Can't you see me at 9 months along trying to waddle after her. I can cause I did it with her oldest brother and I am sure it was NOT a pretty sight.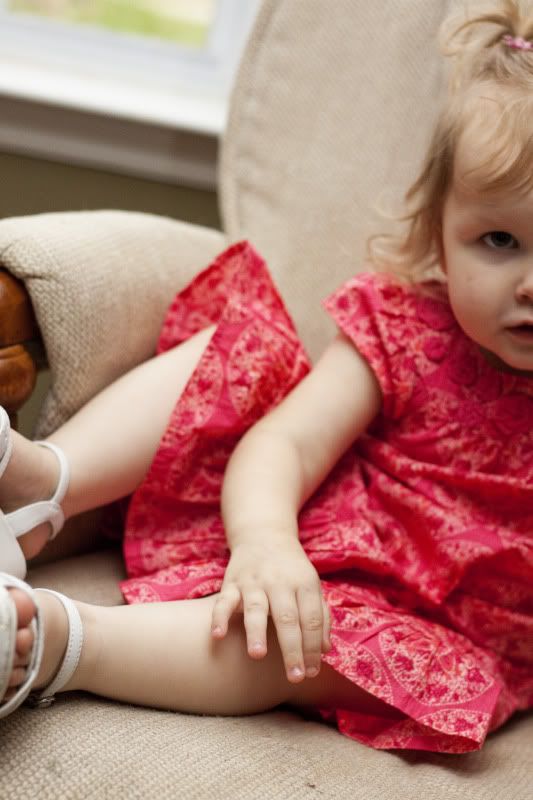 I found some nail polish in the office and Laney's nails painted. She LOVES to have them painted. The girls said they didn't do it. I asked Laney if she did her own nails cause I know I didn't and she said "NO!" meaning she did. The more you have the more
trouble they get into
independent they are at a younger age. :)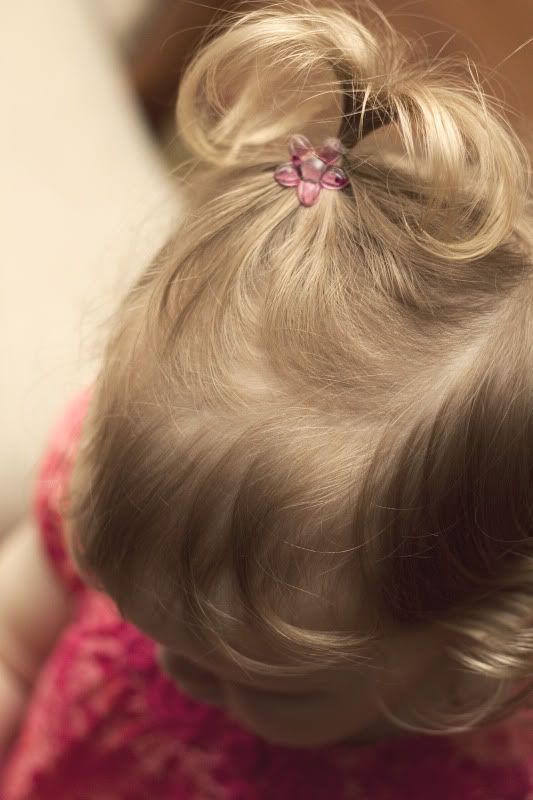 I finally tricked little miss to let me brush her hair and ended up pulling it back. She is such a little girl now! *tear* Of course after she figured out what I was doing she screamed and I won't name any names of who might have started her on this path with their own example. *cough* Bria *cough*
Look at her pretty little curls. I am hoping, most likely in vain, that she will keep them.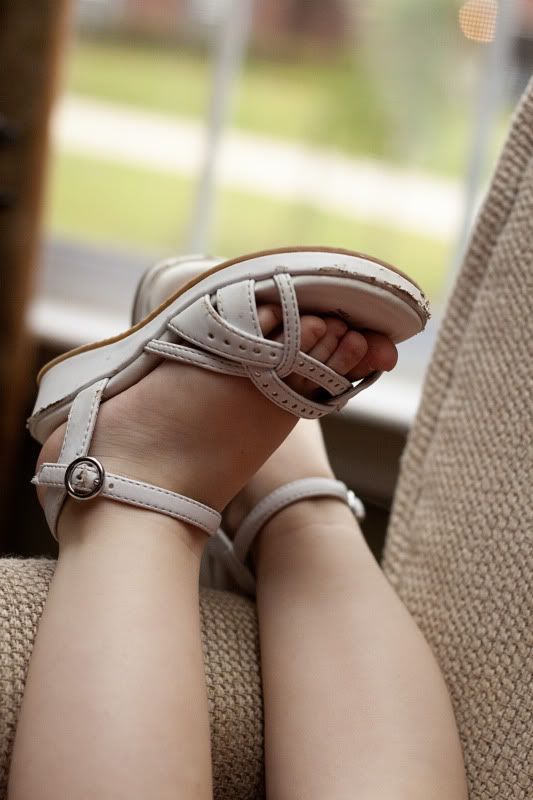 I love her little toes. She also LOVES shoes. She tries everyone's on including Heath's, which seems to be a fave of hers lately.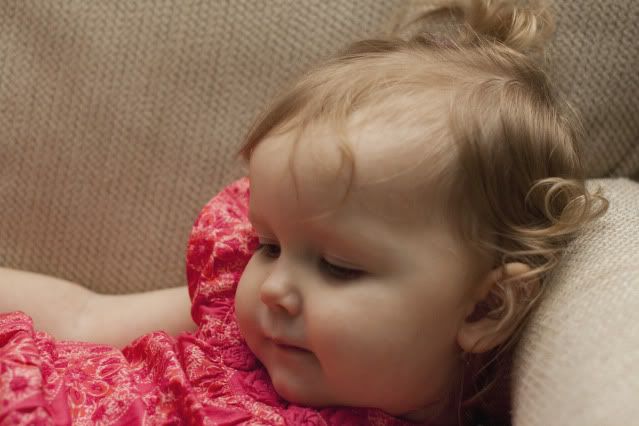 Laney is
obsessed
loving Dora and Sponge-Bob. Can you guess who started her on the latter? She loves to color and goes between both hands when doing so. She bosses Misha (the BIG dog) around all the time, but he still loves her cause he knows where most of his table scraps come from. She is sooooo attached to MOM, but LOVES to go to the older kids most of the time. She has actually pushed me away to be with Chad, Lys or Bria. Don't worry, I am not too sad. It can be a welcomed break.
She loves to talk on the phone to daddy and especially Aunt Chel. She loves to read and have me rock her to sleep while singing a few of her favorite songs. They are "The Itsy Bitsy Spider", "Rock-a-bye Baby" and "Popcorn Popping".
The last thing to keep me busy... Teacher Appreciation Week. We were supposed to do it earlier in the month, but it was postponed after the storms. Luckily I had everything put together minus the tags, about a week before we were supposed to have had it. Here are the goodies I had put together. My friend, Lisa, did the tags and they turned out cute with the little people on them.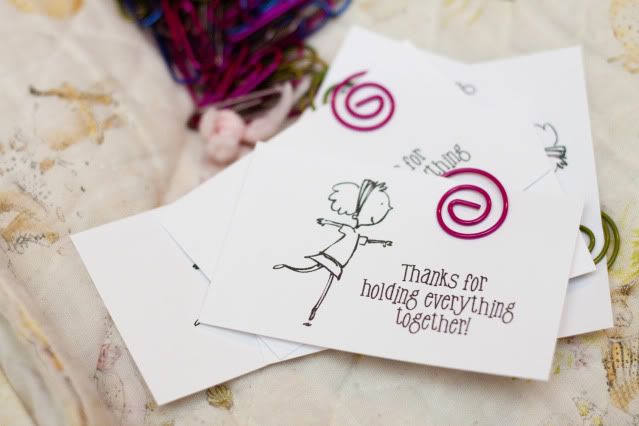 I added cute little swirly paper clips to each tag, then placed them in the bags with some more colorful and swirly clips.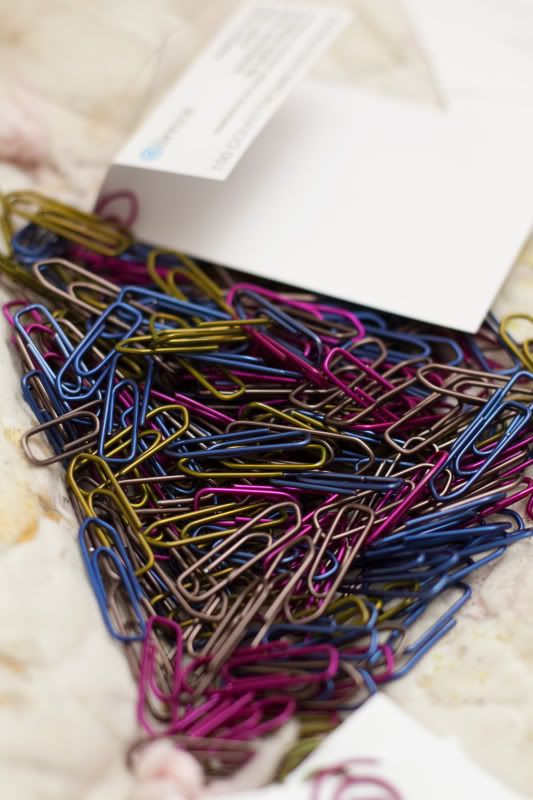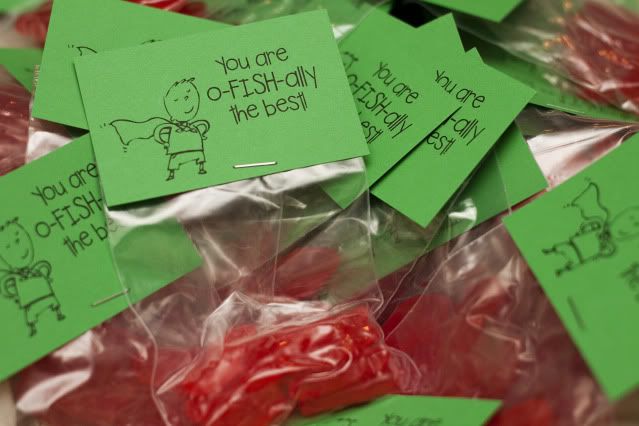 These have Swedish Fish in them.
I don't have two things pictured that we will be handing out during the week. They are:
Twix candy bars saying "Twix you and me, you're the best!"
Lifesavers candies "You are a life saver!"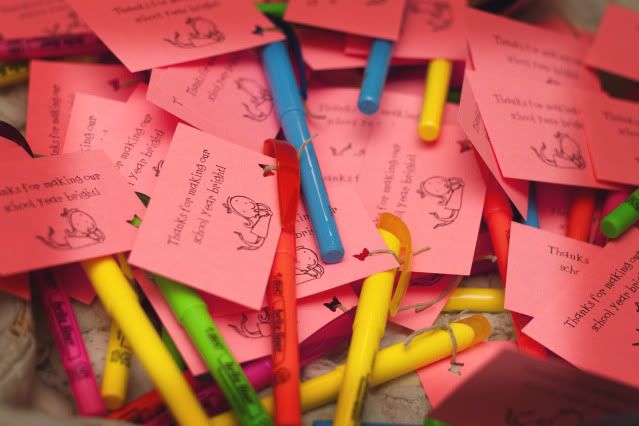 The last day I will hand these highlighters out. The tags say "Thanks for making our school year bright!" I just added the butterfly punches and twine and voila! We have a gift. :)
Hope everyone enjoys the last couple weeks before summer break and the heat sets in!