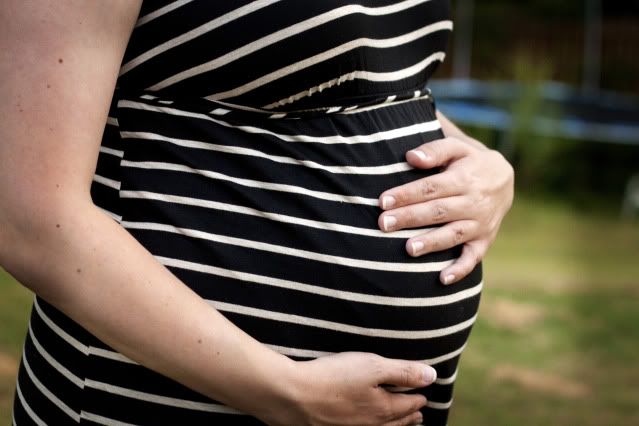 This is me at thirty-one weeks along. I can hardly believe that I only have about nine more weeks! It. Is. Most. Welcomed. :)
All of the kids are excited to see little miss. Each one talks to her daily, Chad feels more weird about it so not quite as much, and Laney wants to constantly kiss, touch, talk to baby or pretend she herself has a baby in her tummy. There was even one day when she came to me, pulled my shirt up to see baby and pulled a brush out to brush baby. Cute? Yes, but I have had to remind her that shirt stays over baby in public or with company over. I think she is finally getting the hint.
Since we were so convinced in the beginning that we were having a boy, we had a name. It was Emmett Teusher (middle name after my hubby's dad's middle name). We always have the boy's names picked well before conception. So it has never really been a problem for us, but a girl's name? UGH! Hard and frustrating at times. Then when baby finally let us see that she was a she, we had to start the name hunting. I originally thought of one, but Tyson really didn't like it. Eventually all the kids were sold on it and frequently told their dad he had no choice in the matter seeing that there was five against one. So it was just recently, and after searching a couple hundred names, that he finally consented. The name?
So now we have Chad, Alyssa, Brianne, Heath, Elayna and Ansley. Signing Christmas cards will be fun! :)
So, what do you think? You like Ansley spelled A-N-S-L-E-Y or another way? Go vote in the poll in the upper right hand corner to tell which spelling of the name you like. Those who comment and vote will be put in a drawing for a surprise give away (you will get to choose from 3 different things)! Just let me know you voted in the comments section.