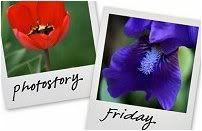 Hosted by Cecily and MamaGeek
When Heath was born Bria would go and wake the baby up! It would drive me nuts, especially when you are trying to either get things done that you can't with a newborn nursing babe or some actual rest myself! Eventually, after working hard with her on some kind of patience, she would wait until I would tell her it was time to wake Heath up. Her favorite thing to do was climb in his crib and play for long periods of time with him.
I ended up taking a picture of her in action because they grow up so fast and I wanted to preserve the memories that one day I will miss. I
will
miss the baby being woken up for play time, the constant running after kids and the laughter that fills our home ALMOST (said with hesitation) daily! ;) Despite whatever frustrations these little instances may cause, in the end they make for warm and wonderful memories, ones that a mother always cherishes, love in the home!