Tradition has always been an important part of my life. I am not sure if it is because my mom passed away when I was 5 years old and it gives me something more to hang on to or if it is just a part of who I am, but tradition is something I hold very dear.
One of the traditions that I hold dear is making a crocheted afghan for each of my children before they are born. I am 7 weeks away from having baby #5 and have finished a new blanket pattern that I found rather unique and beautiful in it's own right. It reminds me of the ocean waves and the soothing sounds of the waves crashing upon the shore. It reminds me of Spring when everything is clean and new. Just like a new and clean baby is being brought into this world.
As I was making this baby's blanket my youngest son started calling each hexagon that I was working on "pancakes" and made sure that they were all stacked just right or else he'd have to get onto you about that. He is normally my kid that is all over the place, doesn't want a lot of rules and regulations and loves getting dirty, but is showing signs of perfectionism in areas that are surprising. Kids never cease to amaze I guess! :) He has been so into the process of making this blanket and getting more and more excited as I got closer to being done that he couldn't keep his little fingers off of it!
I had to crochet 52 of the "pancakes", then sew 3 rows of 8 and 4 rows of 7 in strips. Then I had to sew each strip together, which took forever, and then had to crochet around the outer edge a couple of times. I love that feeling of accomplishment and it is also nice to cross something off of the "To Do" list! Especially when you are in the nesting phase zone!
Chad's baby blanket--the very first one I have made. It is was my first project to learn on!
Alyssa's blanket
Bria's blanket with a macro of the edging design below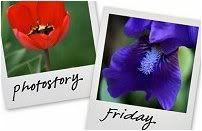 Hosted by Cecily and MamaGeek