My sons class is getting a chance to either take home a frog or a fiddler crab to take care of through the summer (IF they last that long...they aren't known for long life spans). Chad was frustrated because several of his friends had already received their pets, but in my defense he hadn't given me any of the information on what I needed to buy until 2 days after the teacher had already been giving them out. So during one of his frustrating moments he decided to tell me how one of his friends crabs was already doing interesting things. Here was our conversation...
Chad" My friend, William's crab is mating."
Me:(I was kind of caught of guard by this one) "What do you mean by "mating"?"
Chad: "Well the crab swings it's arm above it's head and the girl thinks he is attractive."
Me: (trying to draw out more from him and trying not laugh at the visual of some female thinking a guy is cute by his arm swing) "Yeah, but what is mating?"
Chad: "They make babies." Said so matter of fact!
Me:(GREAT! Did we wait too long to talk about the birds and the bees?) "Dooooo you know HOW they make babies?"
Chad; "No"
Me:(Pheeeeew! But I have to ask) "Do you WANT to know."
Chad: (he looks kind of uncomfortable and ready to leave by this point...he hates long talks and knows that this one is gonna be a long one) "Ummmmm...Not until 5th grade!"
Then he is on his merry little way and I am done sweating because my little kid still wants to be a little kid...well at least for a little while longer! I have NOT missed my opportunity as a parent to tell him about the birds and the bees, but I better get to it soon before he hears it from some other kid!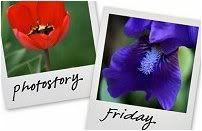 Hosted by Cecily and MamaGeek