Growing up there were many books and movies that entered my life that spoke of the fountain of youth and had epic trials to try and find such a thing. I found it...the secret of being young again! It was right under my nose.
After some time sitting back admiring the kids in their play from a distance this sweet woman got up and sat in the water, basking in the sun, fully allowing the waves to bury her legs in the sand and the most beautiful thing of it all was when she turned towards me and a smile of pure happiness swept across her face. For a minute, she was young again!
I was inspired.
That day after I put my camera away I rolled my pant legs up, splashed in the water with my kids and husband, allowed the water to bury my feet deeply in the sand while encouraging my kids to do the same and we all took turns getting buried in the sand, except for me(I drew the youth line there)! :) WE were young again. We felt pure happiness because we were LIVING and LOVING what we had...each other!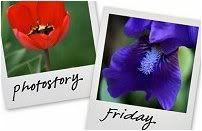 Hosted by Cecily and MamaGeek