As the kids and I headed somewhere after school we were listening to a CD that all the kids enjoy listening to. It all started out with happiness in the air and kids bobbing up and down to the music, until Alyssa started singing along with one of the songs. Well the eldest child, Chad, who for some reason thinks that it is his way or the highway (oldests...go figure)wasn't happy about this and arguments broke out. Not fun when there are 6 of you in a van. It was LOUD!

Anyways, I eventually got it under control when another song came on and that same child sang LOUDLY to that one. Now I have to admit that even MY nerves were getting a little raw from it all when Heath, following in his big brother's footsteps, said "STOP singing! It get on my newrves! We onwy wisten to music singing, not you!"

Then Bria chimed in to rescue her sister with her stubborn-I-am-only-going-to-say-this-once attitude, "If she wants to sing she can sing! It's a free country, Heathy!"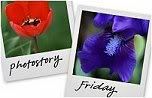 Hosted by Cecily and Sports Mama