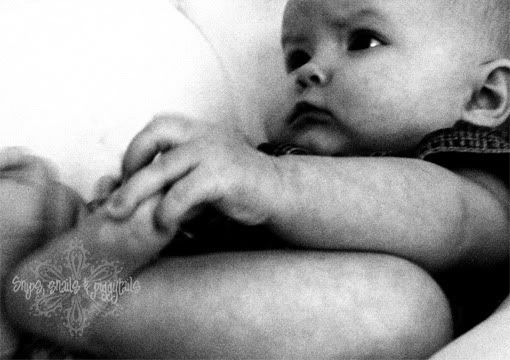 It doesn't seem like half a year has passed by, but it has. It also seems a bit unreal having baby #5 and supporting my husband while he gets his Masters in Business. Let's just say that I have to let some things go and work harder to keep up with others. But I can't really complain because through it all my older kids have been great helpers and this little gal is the sweetest most laid back baby...unless she is hungry or tired, then you have to watch out! :)
Laney has been crawling in an interesting sort of way. She likes to push up on her arms and tip toes then scoot forward and plop down then repeat. It kind of reminds me of an inch worm to tell you the truth, but hey, it works for her so we'll go with it. She also really LOVES animals. Misha has learned that either he has to get out of the room while she is in it or sit and endure becoming bald. She has a good grip, ask Chad, his hair has proven to be tough stuff.
If ever Laney needs to be changed into clothing, the girls are the first to volunteer and then spend their time negotiating their chores for who gets to pick Laney's outfit or jammies out for that day/night. It works and it isn't fighting so I'm not complaining.
Laney is:
15 lbs. 5 oz.
25 1/2 in. long
army crawling or rather inch worming ;)
sitting up with less help
grabbing everything that comes in her way
is enduring her first ear infection that mommy didn't know she had until her well check up today. Apparently it looks like it has been there for a few days. Poor kid! She's just so calm and laid back I never would've suspected.
My good friend and neighbor
Karen
, who took
my maternity pictures,
has once again shown her ever blossoming photo taking talents with
Laney's 6 month pictures
. They are awesome! Thank you for some great pics, friend!