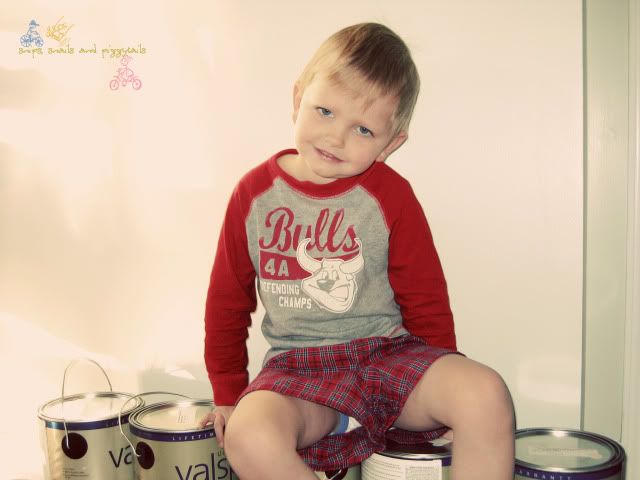 Heath is an adorable kid. Full of energy, mischief, love, wonder and everything a little boy should be and then some. He has always looked at things differently than others. Where we see green grass, he sees the sparkle of the dew, the swirls of the bugs. Where we see a sink full of dishes, he sees waves breaking upon a ship of pirates sailing the ocean blue...you get the picture?
Well Heath also sees things as toys. Especially when they are far from being "toys". He loves when we start a new project because we usually get all sorts of neat little tools and pieces out that he can look at and imagine the endless uses for them.
Recently Tyson and I (going to be a mostly, I) started painting the house. Our goal is to paint all the rooms in the house aside from the office and Foyer. When we paint we leave all the tools out until we finish the room we are working on. Heath has really liked the paint cans this time around. As you can see from the first picture, they make for great seats when you aren't that tall.
Well one day Tyson and I were in the Living room. Heath happily trotted by into the kitchen and with in seconds we heard a thud, crying...then silence. We jumped up to see what had happened and found him grabbing his leg. Come to find out he had been trying to stand on the paint cans and he slipped hitting his leg because when he was walking towards us he was limping. We looked to see if there was any damage, but didn't see anything. The next day...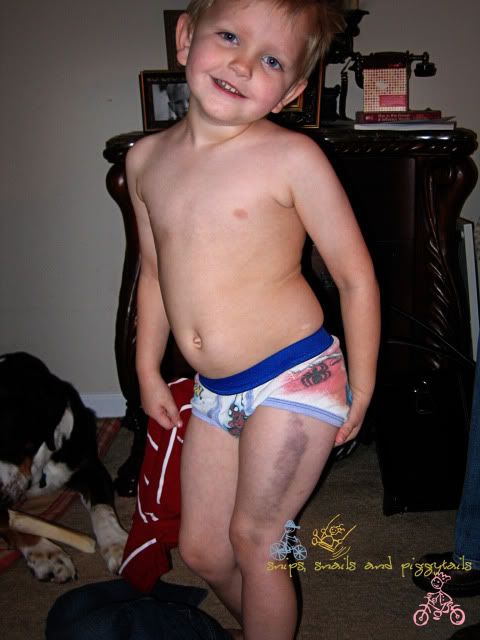 ...there was a big fat BRUISE! This picture doesn't EVEN look like it did in person. It looked like someone had taken a big fat black sharpy to his leg and at first that is what I thought he had done because he has been on a self tattooing with marker kick lately, but after examining it and remembering what had happened the day before with the paint cans, I quickly ruled that out.
This poor kid has taken a lot of bumps and bruises over the almost 5 years of his life. There was once he leaned over the side of the top bunk, when he wasn't supposed to be up there in the first place, and got hit in the face...eye to be exact with the ceiling fan blade. It turned into the biggest goose egg I have ever seen. Then falling off a ladder. Landing in the mulch and getting a severe scratch on his cornea, jumping from couch to couch when I told him not to and he fell landing on his back on the corner of the coffee table. Well the list could go on and on really, but there is no denying that this boy sees things differently. Where you see danger, he sees adventure. Where you see ER written in the future, he sees a Superhero in the making. Oh, there is no mistaking that we will have many memories, whether we like it or not, and that I absolutely LOVE this little guy!