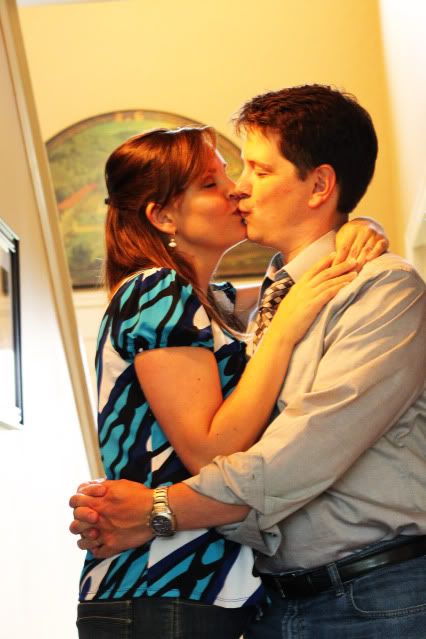 Photo...and peek into my love life, courtesy: Chad...eldest child and peeping Tom! ha ha!
My hubby and I went on a HOT date last Thursday. It was a much needed date night seeing as my hubby
is a slave to his job
has been working major overtime for the past four weeks. He clocked in 140 hrs. in a two week period. He would either go to work from 8 am to midnight or 8 am to about 6 pm then go back in around 8 pm returning around 2 or 3 the next morning. I am happy to say that he is back to "normal" work hours at least for awhile and that I enjoyed my late nights with
"Merlin"
. I am ready and now waiting for Season 3. Can you tell that I
really need to get a life
love this series? Once again hats off to single parents! I don't know how you do what you do and not go insane in the process.
For our date we enjoyed sushi and a movie. Well we enjoyed SOME of the sushi. We decided to be "adventurous" or plain crazy, I'll let you be the judge of that one, and tried some raw squid on rice. It was iiiiinteresting...ok if the truth be told and putting all diplomacy aside, it was GROSS! DISGUSTING! Just plain NASTY! Let's just say that it was HARD to swallow and Tyson got a good kick out of the face I made with every bite that seemed to take an eternity! No joke! I thought we were never gonna be leaving that restaurant because I wasn't going to finish the meat that *boinged*. Not sure if that is a term I can use to describe it, or if that is a description that is appetizing or even really a word, but that is the only word (made up or not) I think that can do the yuckiness of it all justice. I can't leave any word that can describe my disdain for this particular sushi that I had, unturned, or better yet unused. So, no I do NOT recommend it.
On to the more fun and less adventurous part of our awesome date night...we enjoyed watching
"Inception"
with Leonardo DiCaprio. I have to say that I am not normally a huge fan of his, but was really impressed with his and his fellow actors/actresses skills. They really did a great job. This movie kept me thinking the rest of the evening and you know its a good story when you wake up the next morning still thinking about it. :) So, if you haven't already seen it, then you are missing out and really should go see it! I give it two thumbs up and totally recommend it (if you couldn't already tell)!