Recently I took Alyssa to the mall to get her ears pierced. I was on cloud nine when Lys asked if she could get hers done. Visions of swapping cute earrings and jewelry shopping trips danced through my head. This was going to be bliss! :)
So, Alyssa and I were off to the mall. The lady prepped her and then the piercing gadget came out. The lady kind of tricked Lys into thinking she was just finishing up a mark on her ear when "POP!" Earring #1 in!
Alyssa was beside herself in tears and I started feeling sick to my stomach over my little gals sadness and pain. It took an entire HOUR to talk her into the other one getting done. I didn't want to have to hold her down for it either because this was her choice. Not mommy making her do it. I tried to talk her through it. Then, FINALLY, after a few nice strangers tried calming her and a few more words of encouragement from me, she let the other one get pierced. PHEW!!! I was ready for a nap and she had to sit with her head between her knees until the throw up feeling subsided. She has been known to get a little worked up at times. After we were leaving the mall I asked her if she regretted getting her ears pierced and she said "Nah. beauty is pain after all!" :)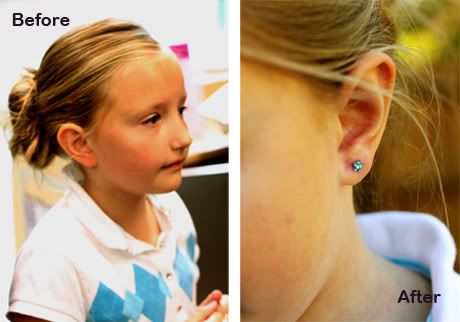 Later that evening Bria, seeing how cute the earrings were, asked if she could get her ears done and I quickly said, "NO! I am still too traumatized by Lys's experience. Ask me in a year!" lol
I remember being 9 when I wanted to get my ears pierced. My dad was not happy about the idea. He kept saying "You only want it done cause that is what everyone else is doing, right?" I said "Nooooo!" Though in all actuality that was a part of the reason as to why I wanted them. The other part, which is what I told him, was that I wanted to be pretty. Then my dad's eyes teared up a little as he squeezed me a little tighter than usual saying, "My baby is growing up!"
The next day my ears were pierced! It sure is nice being the baby of the family. *wink,wink*
Now that I am on that side of the coin, I understand what my dad was feeling and why he was so reluctant to let me get my ears done. I find that as a parent its hard to let go of that little child. Its like looking at them as they are, but still seeing that little boy in his cowboy hat, diaper and holster complete with pistols or the little girl in pigtails dragging her favorite dolly around everywhere she goes. Its bitter sweet.