This is the last day of the
Joy of LOVE
classes. Its sad that it is coming to an end already. I can't believe that I have another month behind me. Where is the time going? That is what I wanna know. :)
The topic for this last one is "The Future". Where do we see ourselves and our loved one(s). Well, I had a GREAT, AWESOME and AMAZING vision in my head for what I was going to do with the kids for our picture. You'd think that after having five kids I would remember that not all things we plan, go as we plan. Here is how my hair brain idea actually played out when I put the kids and props together...
"Okay, y'all ready?" crouch down ready to snap picture. "Ummmm, guys! Stay still! Laney go back by Sissy!"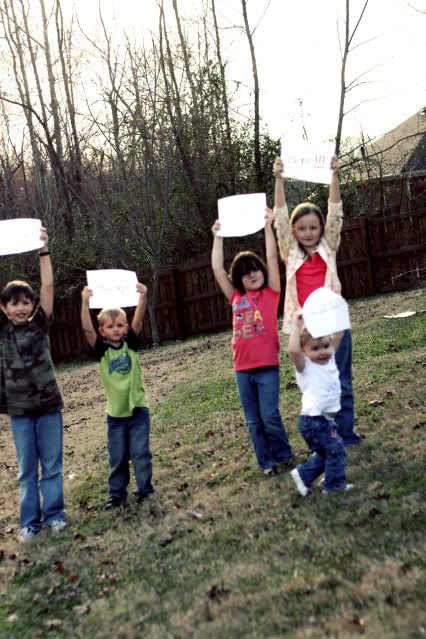 "Okay, bette... Hey! Its all blurry!" think to myself,
Let me just readjust a few things on here.
"Okay, here we go again. Everyone hold your signs up, look over here. Laney, look at mommy." Snap!
Blurry again!
Blast!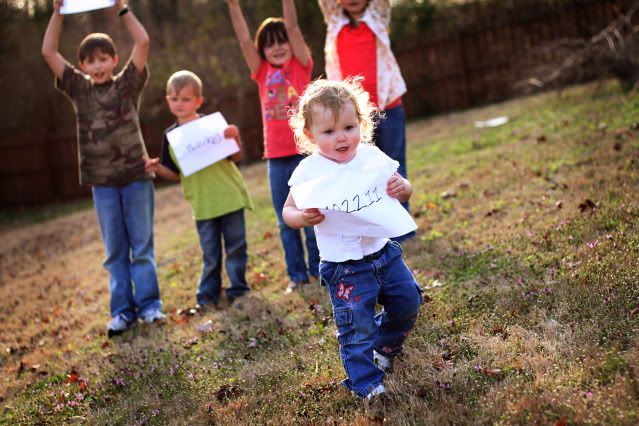 "No, no! Go back to the kids, Laney." *frustrating sigh* as I go chase her down.
All that chasing and regrouping of children just to show you this little message about our future. :) And what was it that Laney was supposed to show you that went with the message?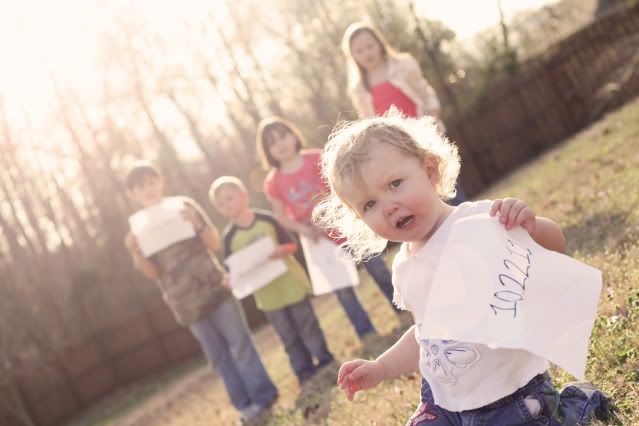 And after this pic, I thought about how crazy I truly am to be having another baby, but I LOVE my family! Craziness and all. :)
Another Horrocks baby due 10.22.11