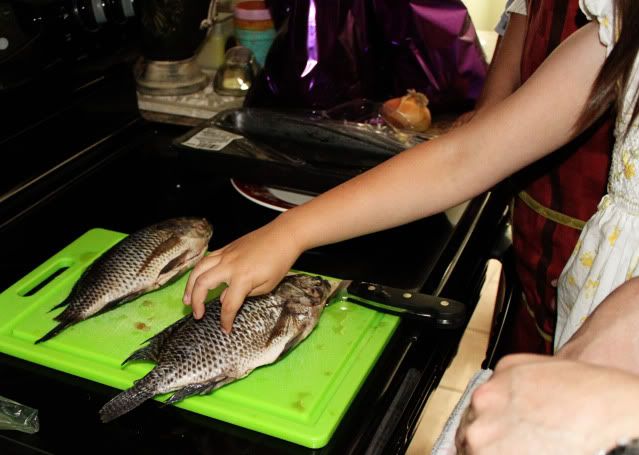 You may be wondering why I would have a picture of fish on here for this post. Especially since we didn't really go fishing for these ourselves. Unless you want to count waiting at the Seafood counter and pointing to the ones we wanted, as fishing. If you're city folk...then it counts.
The other day my son, Chad and I were talking about homeschooling. He has been wanting to do this since he was a Kindergartner and it was only after our second child began to really struggle at school, the past couple of years (in Math), that we seriously considered it and actually made it a reality.
Lately he has been having mixed feelings about it. He is about to be in Middle School and he fears that we won't offer much at home that he could have in public school. He is also concerned with keeping up with the public school's learning curve.
What learning curve?
I thought to myself... :)
Then he surprised me with one I hadn't really thought a lot about. Dissecting animals. He has apparently been looking forward to this part of Science for a very long time.
So, I told him about Science kits that are offered in this area. Then after pondering it a bit more I said "Ya know, we can just go catch a fish and its basically free! Then I will teach you how to clean it. You can look at all the innards, study it out and then we'll cook it for dinner (like we did with the fish in the pic above, minus the cleaning part)."
I only got the smile and "Moooooom!" I guess he doesn't think I am serious. I should probably also inform him that there are a TON of bull frogs by my dad's in Georgia and we can even catch one of them if he wants something a little more juicy. I mean he is, after all, the son of a Southern gal.

Hosted by Cecily and Lolli