Both girls decided last year sometime to grow their hair out and donate it at the same time! The day finally came when they had at least 8 inches to donate! Boy were we all glad about that. Now we hope for quieter days when "Go get the brush" is said and that hair time will not only be more pleasant, but quicker too! Here is the story of our day at the Salon!
All loaded up and ready to go! We just dropped the boys off at one of our favorite people's houses and we were off for our "Girl's Day Out" adventure!

Bria had to have her hair evenly distributed into ponytails and then cut because there is so much of it!
Below are the before and afters of the gals hair!
After wards we picked the boys up and celebrated at our favorite fast food restaurant complete with chocolate shakes...Burger King! And of course they had to call their Granddaddy to let him know the big news!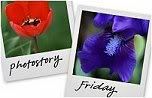 Hosted by Cecily and MamaGeek