But no one here was snoring! We were all out having fun doing various things in and out of the house with the sun shining, when my kids ran in to tell us there were some very dark clouds rolling in and sure enough North West of our house there were the most beautiful dark clouds coming our way. It wasn't that bad of a storm, but it was amazing to watch it move and form right before our eyes! I had to try and get some decent pictures of it all! We have been having thunderstorms on and off (Mostly on) for the past several weeks and ended up with an F2 Tornado about a mile from my house not too long ago. Of course I was sitting in my living room watching the trees swing in circles and the rain hit harder thinking
"Hmmm, I wonder if a real Tornado just hit cause it looks like it."
It even felt like it. You could feel a pressure difference in the air. Yeah, not so smart. When you have been around this kind of stuff for your entire life and it's been a long time since they have touched down around you, it is hard sometimes not to get desensitized. So from now on when the sirens blare, we will be in the designated closet! :) Better safe than sorry!
I have to admit that I LOVE watching Thunderstorms and the lightning that comes with them. I just wish I had a front porch to sit on during it all!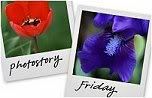 Hosted by Cecily and MamaGeek