...
that we live so close to the school and that my kids can choose if they want to walk or ride the bus to school!
...
going to my fave restaurant (Surin's) to get sushi and curry in celebration of being halfway done with the MBA program as well as my hubby making straight A's yet again this semester! Bria is the only kid we have that doesn't like sushi...chad was sad when he heard that we had some while he was still visiting my dad and sis!
The kids were adventurous and tried it with fish eggs! Alyssa was the only one that kept eating those ones. Heath loved the one that was flash fried and had cream cheese and shrimp in it!
...
the kids do chores and that a picture can make it look like they were actually getting along and not complaining (even little Heath does dishes)! Chad was grateful to have been in Jesup for awhile! :)
...
that my Aunt C came to visit when my sister came to drop Chad off from his 3 week visit in Jesup! She hardly ever uses recipes for her cooking and is the BEST cook ever! We were able to sample this yumminess while she was here! :)
...
that this kid, who
can't
won't sit still or take pics serious, will be starting pre-school next week!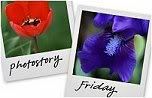 Hosted by Cecily and MamaGeek