I was feeding Miss Laney-bug while the girls were doing their after school chores and there was some arguing going on in the direction they were in so I asked what was wrong?
Weeeeeell, they both tried talking over the other and pointing fingers at who does more work and who did what last time and so on and so forth...all I said was "Hey! Let's calm down." And THEN Alyssa comes into the living room bawling! "Ittt's JUST SO UNFAIR! It's so hard being the big sister! it's so hard to always try to be good! Bria always says I don't let her do the rinsing!"
THEN Bria comes out BAWLING and saying "She never thinks I do anything right! She always thinks I don't work hard!!!"
I felt all sorts of emotion myself...wanting to cry with them, yell cause life has bee a bit hard lately, and what I actually did do...laugh and said "Y'all are not EVEN teenagers yet!" :)
We eventually got emotions under control and they eventually forgave me for laughing and had a much better day...but man I am SO not ready for those teen years!
Why can't it just stay like this? :)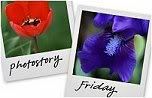 Hosted by Cecily and Chris