Life has been busy and I hope that one day I will be a consistent blogger again and consistent with my PSF posts cause I really enjoy these! :)

It's amazing how much you forget about having a baby in only 4 years! Let's just say that my kids are lucky to get mac-n-cheese many a day and lucky that after 6 months of wanting to do a joint b-day party for Bria and Heath it finally happened!

It was complete CHAOS at times, but the kids loved it!

The grilling had a few glitches and my dearest ended up getting a 2nd degree burn on the sole of his foot when his charcoal canisters bottom fell out and while he was getting shoes on to clean the chaos, the grills wood ledge caught fire. Good thing another adult was there to help cause I had baby in my hands while trying to keep kids from stepping on the scattered coals. BUT the kids STILL loved it all. And Tys will never be walking on hot coals for a living!

One day I know that my kids will have chaos of their own and hope that they will learn from us how best to cope with the stress. I think the picture below PROVES that they are catching on quickly!

I was proud of Heath for not licking his brothers hand! And I am still wondering why my daughter is licking the air! Though her cousin looks pretty impressed oooor is that grossed out? :)
This weeks Photostory Friday has been teamed up with Lolli at
Better in Bulk
. Just click below if you would like to join in on the fun!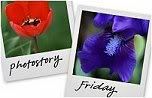 Hosted by Cecily and Lolli