Green...you say White!
Green.
White.
Green.
White.
When I say St. John's...you say Crusaders!
St. John's.
Crusaders.
St. John's.
Crusaders.
It's that time of year again where we enjoy touchdowns and POM-POMS (and my life is spent running kids all over and keeping laundry up so they actually have a uniform to wear)! This is my daughter's 4th year of cheering and she is a flyer (top of pyramids). Her favorite part aside from being a flyer is the dancing and Competition. This year we are going to regionals and if we come in 1st or 2nd we can go to Nationals in Orlando! So EXCITING...except for the fact that this takes place the day after Thanksgiving...OH and the fact that it takes cashola which we have to fund raise and ask sponsors for (I am so NOT one of THOSE grab the bull by the horns people when it comes to sponsers *sigh*).
Heath pointed out the #4 behind Lys...we tried explaining that it was the goal posts, but he INSISTED it was JUST a 4!!! :)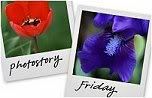 Hosted by Cecily and Izzy 'N Emmy