Years ago, when I was in my Senior year of High School, I said I didn't want to get married til I was 30 (I am now 30, been married almost 12 yrs.) and I NEVER wanted to have children,(I now have 5)!
The moral...
"Never say Never"! Just like you shouldn't say you're done having kids while saying prayers, cause the man upstairs just MIGHT have other plans for ya! :)
I wanted to be done after 4, but thought that there just might be one more, but I didn't want anymore and refused to listen to that inner voice. Then my husband signed up for an EMBA program 2 hrs. from home (he goes every other weekend) and after we were set to go "No turning back" we found out that we were pregnant again! Of course now that we have our precious Laney-bug, we can't imagine our lives without her and her squishable, kissable, chunky monkey cheekers too! ;)
She is 5 months old and is so calm and sweet. Now if we could get her to take 2, 1-2 hr. naps a day instead of 3-4, 30-40 min. naps a day!
She loves to:
talk to other kids
eat
play with our horse of a dog(ok she really likes to just pull his hair out, but to her it's all good fun!)
be outside
roll and move all over the place
She is trying to:
sit up
crawl, but ends up falling over on her side
give kisses, but slobbers all over you instead ;)
Heath is growing quickly as well! This is my last year with him home all day and there are some days I regret not having these two 2 years apart like the rest of the kids because poor Laney will be home alone for awhile, but I know that I needed a break for sanity's sake.
Heath Loves:
Mario Galaxy on the Wii

to play computer with his brother and sisters
to watch "The Iron Giant", "Monster House" and "Annie"

to play with the neighbor kids. He waits by the door for them to get done with school sometimes.
to talk!
draw
I tried to get a good picture of their feet, but they kept moving, but I like this shot because it shows them for who they are...active little kids who love each other!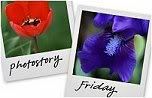 Hosted by Cecily and Angie



Be sure to check out my

FIRST giveaway!


It closes Monday, October 12 at noon!